Lĩnh vực phân tích nghiệp vụ kinh doanh (BA) đã phát triển mạnh trong những năm gần đây và được xem là một năng lực lãnh đạo quan trọng trong việc thực thi dự án, chương trình hay danh mục đầu tư.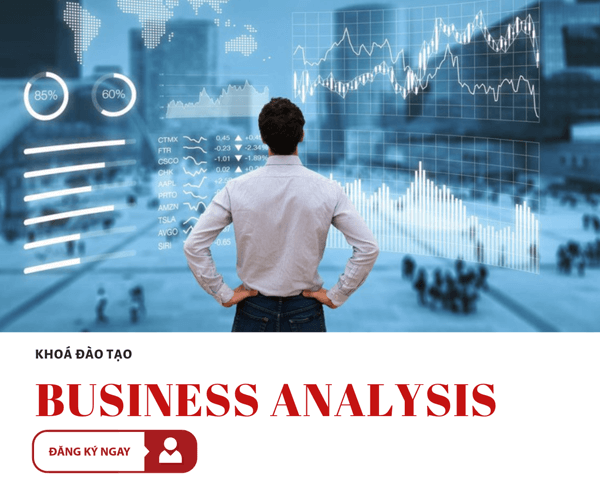 Theo nghiên cứu từ Pulse of the Profession® của Viện quản lý dự án Hoa Kỳ (PMI), việc thu thập các yêu cầu không chính xác luôn nằm trong ba nguyên nhân hàng đầu gây ra thất bại cho dự án, nhưng chỉ một nửa các tổ chức có sẵn các nguồn lực để thực hiện chức năng này đúng cách.
Đây là thời điểm công ty cân nhắc trong việc đào tạo nhân viên về kỹ năng này. Nếu nhân sự làm việc với các bên liên quan trong việc xác định các yêu cầu, đưa ra giải pháp đầu ra dự án đều phù hợp để tham gia.
Cách thức triển khai khóa học Business Analysis (BA)
- Đào tạo theo yêu cầu của doanh nghiệp, chương trình học được thiết kế đáp ứng theo đối tượng học viên, mong đợi từ doanh nghiệp và giải quyết từng case cụ thể
Địa điểm đào tạo khóa Business Analysis (BA)
- Linh hoạt theo sự sắp xếp của doanh nghiệp. Tổ chức tại văn phòng công ty khách hàng luôn là lựa chọn phổ biến đối với đào tạo in-house.
Đối tượng khách hàng doanh nghiệp phù hợp với Business Analysis (BA)
Công ty sản xuất, phát triển phần mềm
Ngân hàng, tài chính, bảo hiểm
Công ty ERP
Các doanh nghiệp có quan tâm đến chủ đề này
Các học viên cá nhân muốn phát triển trong lĩnh vực BA
Một số khách hàng doanh nghiệp tiêu biểu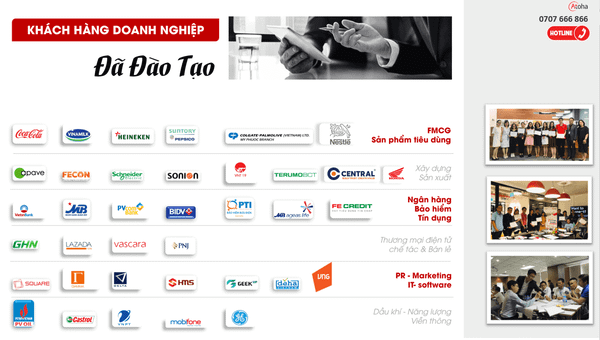 Nội dung khóa học Business Analysis (BA) tham khảo
1. Needs Assessment
Define or review a business problem or opportunity using problem and opportunity analysis techniques in order to develop a solution scope statement and/or to provide input to create a business case
Collect and analyze information from a variety of sources using valuation tools and techniques to contribute to determining the value proposition of the initiative.
Collaborate in the development of project goals and objectives by providing clarification of business needs and solution scope in order to align the product with the organization's goals and objectives.
Identify stakeholders by reviewing goals, objectives, and requirements in order that the appropriate parties are represented, informed and involved.
Determine stakeholder values regarding the product, using elicitation techniques in order to provide a baseline for prioritizing requirements.
2. Planning
Review the business case, and the project goals and objectives, in order to provide context for business analysis activities.
Define strategy for requirements traceability using traceability tools and techniques in order to establish the level of traceability necessary to monitor and validate the requirements.
Develop requirements management plan by identifying stakeholders, roles and responsibilities, communication protocols, and methods for eliciting, analyzing, documenting, managing, and approving requirements in order to establish a roadmap for delivering the expected solution.
Select methods for requirements change control by identifying channels for communicating requests and processes for managing changes in order to establish standard protocols for incorporation into the change management plan.
Select methods for document control by using documentation management tools and techniques in order to establish a standard for requirements traceability and versioning.
Define business metrics and acceptance criteria by collaborating with stakeholders for use in evaluating when the solution meets the requirements.
3. Analysis
Elicitor identify requirements, using individual and group elicitation techniques in order to discover and cap
Analyze, decompose, and elaborate requirements using techniques such as dependency analysis, interface analysis, and data and process modeling in order to collaboratively uncover and clarify product options and capabilities.
Evaluate product options and capabilities by using decision-making and valuation techniques in order to determine which requirements are accepted, deferred, or rejected.
Allocate accepted or deferred requirements by balancing scope schedule, budget, and resource constraints with the value proposition using prioritization, dependency analysis, and decision-making tools and techniques in order to create a requirements baseline.
Obtain sign-off on requirements baseline using decision-making techniques in order to facilitate stakeholder consensus and achieve stakeholder approval.
Write requirements specifications using process (such as use cases, user stories), data, and interface details in order to communicate requirements that are measurable and actionable (that is, suitable for development).
Validate requirements using tools and techniques such as documentation review, prototypes, demos, and other validation methods in order to ensure requirements are complete, accurate and aligned with goals, objectives, and value proposition.
Elaborate and specify detailed metrics and acceptance criteria using measurement tools and techniques for use in evaluating whether the solution meets requirements.
4. Traceability and Monitoring
Track requirements using a traceability artifact or tools, capturing the requirements' status, sources, and relationships (including dependencies), in order to provide evidence that the requirements are delivered as stated.
Monitor requirements throughout their lifecycles using a traceability artifact or tool in order to ensure the appropriate supporting requirements artifacts (such as models, documentation, and test cases) are produced, reviewed and approved at each point in the lifecycle.
Update a requirement's status as it moves through its lifecycle states by communicating with appropriate stakeholders and recording changes in the traceability artifact or tool in order to track requirements towards closure.
Communicate requirements status to project manager and other stakeholders using communication methods in order to keep them informed of requirements issues, conflicts, changes, risks, and overall status.
Manage changes to requirements by assessing impacts, dependencies, and risks in accordance with the change control plan, and comparing to the requirements baseline in order to maintain the integrity of the requirements and associated artifacts.
5. Evaluation
Validate the solution's test results, reports, and other test evidence against the requirements acceptance criteria in order to determine whether the solution satisfies the requirements.
Analyze and communicate the solution's identified gaps and deltas using quality assurance tools and methods in order to enable stakeholders to resolve discrepancies between solution scope, requirements, and developed solution.
Obtain stakeholder sign-off on the developed solution using decision-making techniques in order to proceed with deployment.
Evaluate the deployed solution using valuation techniques in order to determine how well the solution meets the business case and value proposition.
Thông tin liên hệ:
Viện Quản lý dự án Atoha - Chìa khóa quản lý dự án chuyên nghiệp
Địa chỉ văn phòng: Lầu 6, 69-71 Thạch Thị Thanh, P. Tân Định, Q. 1, TP. HCM
Email: cs@atoha.com | ĐT: 028 6684 6687 | Hotline: 0707 666 866